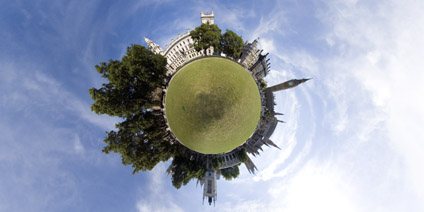 Parliament Square is notoriously difficult to get to, and yet it provides a unique view of the Houses of Parliament and Westminster Abbey. The difficultly arises from the fact that Parliament Square became the first official roundabout in 1926, thus surrounding it with traffic.
The panorama was merged from a total of 11 photographs, as opposed to the usual 6. Moving traffic can often cause problems in panoramic photography, resulting in 'post stitch' photoshop work. This panorama is 'as is' apart from the clean up on the down shot to hide the tripod. A simple quick stitch with no photoshop changes, sometimes they just work….
View the Quicktime panorama of Parliament Square, London (3.4mb).