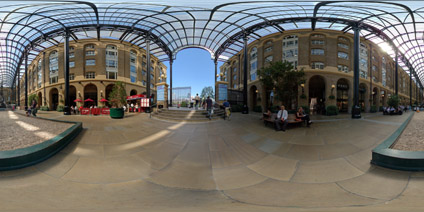 Hays Galleria is tucked along side the river between London and Tower Bridge. A mix of small boutiques, coffee shops, bars and restaurants it is a place to browser and relax as part of a river side walk in London.
The galleria is spanned by a steel and glass roof which covers the original Hay's Wharf – built in the 1850's and a centre point for river trade in London.
David Kemp's sculpture 'Navigators' dominates the centre, a nautical sculpture which captures the wharfs link to the river.
View the Quicktime panorama of Hays Galleria, London (3.2mb).