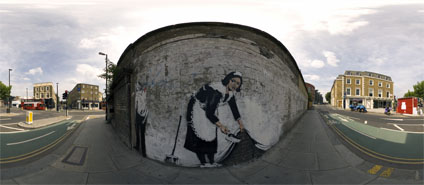 With over 100 panoramas now on the site its easy to lose the images that especially work well and capture the urban scene. As such we are planning to feature some of our favourites as new posts – the first of these is the panorama captured in front of the Chambermaid stencil by the artist Banksy, created in May 2006, on the wall of the Roundhouse in Camden. According to the Camden New Journal Article the maid is a portrait of Leita who worked in a Hotel in Los Angeles.
Libbey Cambell the newly elected Liberal Democrat Councilor stated that "Banksy should of got permission for the art and ask who is going to pay to have it removed?". We are glad to say that is hasn't been removed as the owners of the Roundhouse rather like it and it is refreshing to see innovative images on the streets of London. As for Libbey, you would of thought she would have other things to worry about in Camden to be honest…
View the Quicktime panorama of Banksy's Stencil at the Roundhouse, Camden, London (2.9Mb). You can also simply view a larger version of the image (290K).
If you have any favourites or would like any in 18 x24 inch glossy prints – great Christmas Presents and very exclusive as we dont normally as a rule sell the images – let us know via the email link on the side bar.