Another in the new series of Google Earth Panoramic Spheres, this time featuring Temple Bar and St Pauls Cathedral, London. Temple Bar is the last remaining gate of the old City of London. Built by Christopher Wren in 1672, Temple Bar divided Fleet Street and the City of London from the Strand and Westminster. It is infamous as it used to display the decapitated heads of traitors.
It was dismantled from its original location in 1878 and re-erected ten years later in Herefordshire after being purchased by Lady Meux. In 2004 it was moved back to the City of London and now stands between Paternoster Square and St Pauls Cathedral.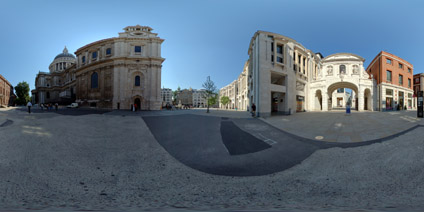 If you would like to make your own Google Earth Panoramic Sphere then feel free to Follow our Tutorial which includes examples files and a walk through on making your first sphere.
Download the St Pauls KMZ and view in Google Earth (70K KMZ and 700K Network Link).