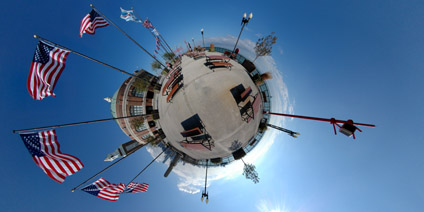 Construction of the Navy Pier, Chicago, begun in 1914 under the direction of architect Charles Sumner Frost. The pier was originally designed a shipping and recreational facility, it is now however a theme park and shopping mall.
The Pier is also however a great place to view both the cities skyline and Lake Michigan. The Lake at 118 miles wide and 307 miles long is one of the five great lakes of America.
View the Quicktime panorama of the Navy Pier Chicago. (2.3mb).