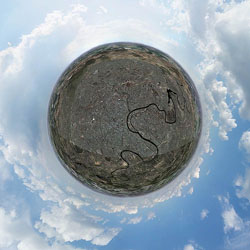 A couple of more panoramas have been created of Google Earth so far today, first up is a unique view of Moscow by Andrey Ilyin. Andrey of the Moscow Panorama Service is known amongst the panoramic community for his exploits climbing on top of various Churches in Moscow and capturing some stunning images, many of which can be found on his website.
You can view the panorama of Moscow from Google Earth here , if you would like to create one yourself just follow our tutorial.
Coming later is a Google Earth Panorama of New York by Bruno..